Units: ADCOM | Ground SAR | K9 SAR | ORV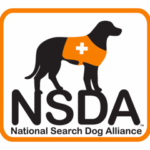 The CCVSAR K9 Search and Rescue Unit provides highly trained K9 search teams to Chelan County and to our neighboring counties through a statewide mutual-aid system. Our dogs and their handlers are trained in air scent and trailing disciplines for wilderness, urban and disaster environments.
Handlers and their dogs are constantly training to maintain their proficiency and certifications.  To become mission ready it takes at least 1000 hours over a 2 year period and around $10,000 to train, equip, and care for each new search dog. Donations are needed, please consider supporting our search dogs.
Search dogs are a valuable resource in searches for lost and missing persons. Handlers must be dedicated and highly skilled. Likewise, their dogs must be hard-working and well-trained.
Meet the CCVSAR Search Dogs
K9 Aspen, CGCA, CGCU:  Aspen is a 3 1/2 year old yellow Labrador Retriever certified by NSDA in Area Search.  She is continuing her advanced training in Scent Specific Area Search as well a Human Remains Detection.  Aspen has also earned her Advanced and Urban Canine Good Citizen obedience certifications.
Her handler, Matt Kozma, has been a SAR volunteer since 1997.  Matt is the CCVSAR Vice President, K9 Unit Leader, and is also Ground SAR and Mountain Rescue qualified. Matt is very active mentor of K9 teams around the state as an AKC CGC Evaluator, Area Search instructor, and the K9 Track Manager for our state SAR Conference.
---